post by GotQuail
Fantasy for GNL Season 12 is over! It was really close all season, and in the end we have a tie for first place between Barren and NorthDrakkar! The final point totals are as follows: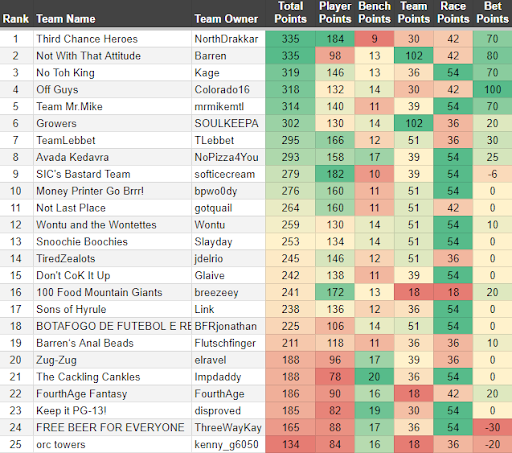 The three main differentiating categories this season were player, team, and bet points. The race points really didn't end up mattering much since all the races performed similarly. Interestingly nobody nailed all three categories, which lead to a very tight leaderboard at the top.
Barren managed to tie for first despite one of the lowest player point totals, being the only person in the top 15 with a total under 100 (next lowest was 130). The biggest difference was picking IF for your team, which was worth 102 points. Only Barren and SOULKEEPA picked IF and with the next-best team only worth 54 points this was a big differentiator.
In a stark contrast to last season, betting was very profitable this season, leading to all the best bettors crowding the top of the leaderboard. As a group, we placed a total of 255 bets, with an average wager of 9.78, so almost everyone bet the maximum of 10 every time. The total balance was +469 points, making the average bet value a +1.84, so betting 6 matches each of the 5 weeks would net you an expected 55 points, so everyone who didn't bet was missing out on a lot of value this season.
The top performing players this season were as follows:
The average point total for players was 18.3, so all these players in the top 30 were solid picks for any fantasy team.
The most valuable rookie this season was Animosity, with 35 points. Rookies are hard to pick because they have no history, so congrats to SOULKEEPA for being the only person to draft Animosity and cash in.
Note from Barren
Big shoutout to GotQuail, Wontu, and Debaser for making fantasy league work. They did it all. Congrats to the amazingly talented (and very good looking) first place winner, Barren. Northdrakkar did ok too.