The GNL season is over and alongside the players clashing, there were fantasy coaches hoping their fantasy teams brought home a victory for them.
After 5 weeks the winner of the GNL fantasy league has been decided. Pischner takes the victory with a slim 4 point lead over second place! Pischner ended the season with a total of 196 points.
Here are the final top 10 teams: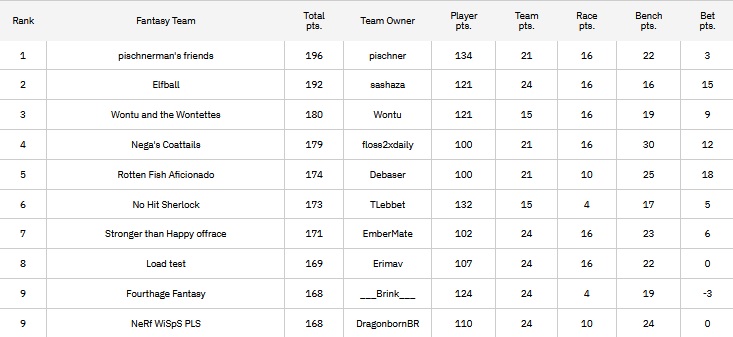 These were some of the selections made by pischner that helped carry him to victory. It does not include points bet throughout the season where he could win or lose points each week. In the end he only ended up +3 in points.

Now on to some fun stats
Before we dive into all the statistics be sure to pull up the rules for fantasy league, team totals, and list of teams here so that you can compare how you and others did to those listed below.
Betting Statistics
This season we implemented the ability to bet a total of 9 points each week on 3 matches. You could bet up to 3 points on each of the 3 matches. Here are the the teams that did the best and the worst.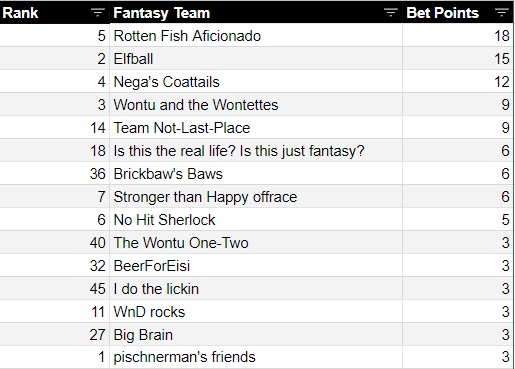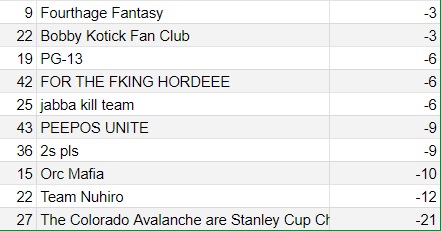 Fantasy Teams whose players scored the most points through the season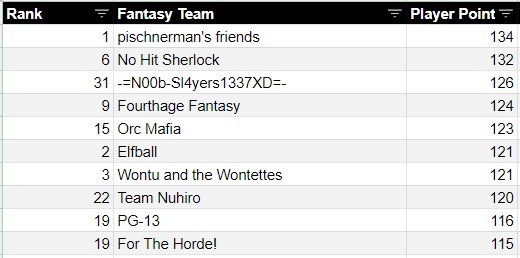 Fantasy Players who brought in the most points.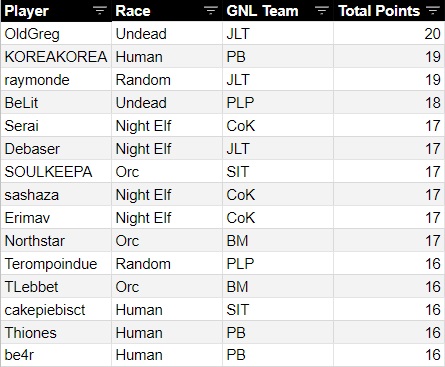 GNL Teams that brought in the most points
At the start of each season Fantasy team owners picked one team they thought would win each week. Here were the points each GNL team earned by week if selected for a fantasy team.

WC3 Race performance each week
We also made it so each fantasy team would select one race to bet one. Each week they would get points depending on how well the race performed. 6 points for the race with the highest win % (per week), 4 points for the race with the 2nd highest win % (per week), 2 points for the race with the 3rd highest win % (per week)

With that we end this season of Fantasy League. Thank you to everyone who participated.
Special shout out to Wontu for running fantasy league making sure there are no hiccups, OldGreg for doing alot of the behind work at automating the points, and Debaser for helping set up the betting bot!
If you have any suggestions for future seasons of GNL Fantasy League please message Barren or Wontu or post in #gym-suggestions on gym's discord.
Thanks to all who participated!